"REMEMBER"
I was watching some peeps play DreadOut since I don't have the game, but then I noticed something funky. Something real funky. You know how after Lin gets stuck in the school and when she goes into the hallway where the Babi Ngepet is, there was a phone call first. Well I was looking at Lin's phone really hard out of curiosity and I noticed she had new messages, a missed phone call on the thingy. But then...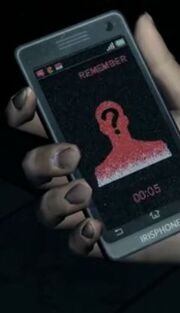 Um...Okay.
I paused it at the right time and "Private Number" did stop briefly as "REMEMBER".
I'm not sure what it's asking Lin to remember, maybe what happened in her dream (demo)?
I'm starting to think that Lin's a ghost. You know, she never really existed. Just at one point otw back "home", she kind of appears in the car and she influenced everyone's memories to act like she existed, but she didn't. All the memories were fabricated unintentionally by Linda and the whole game is just the ghosts telling Lin to remember that she's actually a ghost and was not supposed to exist.
That actually is really sad, I hope that this won't happen.
Anyways, let me know what you guys think of this little tidbit. I wonder if this was intentional or not~